Deerfield Chiropractor,
Dr. William Pollack Jr. – D.C., F.A.S.B.E.
Dr. Gonstead Cures Young William's Knee with Chiropractic Adjustments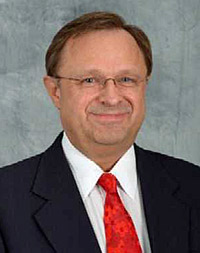 Dr. William Pollack's first exposure to chiropractic occurred when he fell off a wrestling mat in high school injuring his knee. His parents took him to an orthopedic surgery clinic where the doctors determined that,"the knee cartilage is shredded like crab meat!" "You'll need to have surgery to remove the cartilage." In the 70's knee surgery recovery and rehabilitation took about 6 months.
Dr. Bill's dad needed help on the family dairy farm, so he insisted that he go to the Gonstead Clinic of Chiropractic in Mt. Horeb, WI. Dr. Gonstead evaluated the knee and determined that the knee was merely twisted in the fall and that one of the bones was "out of place." After one single adjustment, the pain was completely gone. To this day the knee has never had surgery, has no degeneration and has never again been a problem.
He also told Dr. Gonstead that he had a severe case of asthma. This too was helped by the care received by Dr. G. It is no wonder that as a freshman in college when asked by Dr. Gonstead, "What are you planning to be?" And…young William answered, "An orthopedic surgeon." Dr. G. said, "The heck you are; you're going to be a chiropractor and darn good one!"
Dr. Pollack Realizes Help Offered by Chiropractic Care and Chooses Chiropractic Career
Still not convinced, Dr. Gonstead told him to go talk to the patients in the waiting room. "I met patients that had been to many types of doctors, even several chiropractors, for many types of disorders and all received help from the methods employed by the doctors of the Gonstead Clinic." Patients came there as a last resort for migraines, diabetes, ulcers, kidney disease, failed back surgery, chronic fatigue syndrome, fibromyalgia, ruptured discs, epilepsy, high blood pressure and many, many other conditions. There were many that had been 'cured' years before and still went for wellness care. Even babies were seen, often with life threatening conditions and were successfully treated with conditions such as cerebral palsy, seizures, fevers, failure to thrive, spastic torticollis and more common conditions such as colic, ear infections and asthma. Older children were treated with attention deficit disorder (ADD), attention deficit hyperactive disorder (ADHD) and bedwetting…all without any medications at all.
Dr. Pollack is now a Fellow of The Gonstead Clinical Studies Society and a Fellow in Clinical Applied Spinal Biomechanical Engineering. He has been a noted Gonstead instructor for more than 40 years. He is also a metabolic specialist, treating patients with many chronic metabolic disorders, such as migraines, asthma, childhood ear infections, depression, fibromyalgia, chronic fatigue, rheumatoid arthritis, DDD, ADHD, and more.
Thanks for visiting our site. Dr. Pollack looks forward to meeting you in person and learning how he may be of service to you. Give our Deerfield office a call, or email us using the link on this site and let's arrange a time to explore your options.
---
Dr. William Pollack | Chiropractor Deerfield | (847) 215-2225